---
HD Media Center
Optical Drives
HDD Storage
Networking
Legacy Hardware
Tablet & Smartphone
Input & Mics
OEM's Original
Dell Original Parts
Alternative Energy
Electronic Vaporizer
---



4 image(s) available for Western Digital WDBABZ0010BBK. Click to enlarged the image(s). ~ Add to Cart ~

Copyright Centrix International Corp.



WD TV Live Hub Media Center. Build-In 1TB Storage. MKV, H.264, VOB, MOV, AVI, Xvid and more. Gigabit Ethernet, USB 2.0, HDMI, Composite A/V, Component video, and Optical audio. WD P/N: WDBABZ0010BBK
** Update your purchase quantity and the discount will be applied automatically.
** Need Larger Quantity & Lower Price? CALL US 01(909)480-3000 Ext:100
UPC Code:
Manufacturer:
Western Digital
Manufacturer P/N:
WDBABZ0010BBK
Category:
HD Media Center
Item Code:
WDHUB
Condition:
New Retail
Price:
$189.00
Warranty:
Manufacturer
Unit weight:
2lbs
Shipping area:
Now shipping to 38 countries!
Shipping cost:
$8.60 shipping information
Qty in stock:
49
Specifications (For Full Manufaturer Specification CLICK HERE )
Video Files Supported

AVI (Xvid, AVC, MPEG1/2/4)
MPG/MPEG
VOB
MKV (h.264, x.264, AVC, MPEG1/2/4, VC-1)
TS/TP/M2T (MPEG1/2/4, AVC, VC-1)
MP4/MOV (MPEG4, h.264)
M2TS
WMV9
FLV (h.264)†

Photo Files Supported

JPEG
GIF
TIF/TIFF
BMP
PNG

Audio Files Supported

MP3
WAV/PCM/LPCM
WMA
AAC
FLAC
MKA
AIF/AIFF
, OGG
Dolby Digital
DTS

Playlist Formatts
Subtitles Supported
Languages Supported

English, Czech, Dutch, French
Italian, German, Hungarian
Japanese, Korean, Norwegian
Portuguese, Russian, Spanish
Swedish
Simplified Chinese and Traditional Chinese

System Requirements

Standard or high definition television with HDMI or composite video connections. Cables not included.
Home network and broadband connectivity for online services.

Package Contents

Media Center: media player with built-in 1TB Hard Drive
Remote control (No Batteries)
AC adapter
See First Hand†What the WD TV Can Do Click Videos Below
Full 1080P HD VIDEOS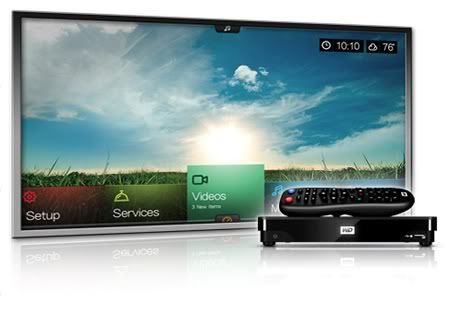 Crystal Clear Pictures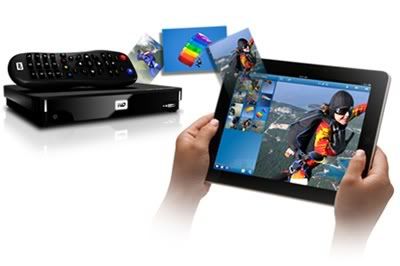 MUSIC MUSIC MUSIC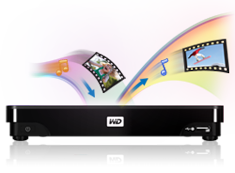 SETUP AS EASY AS 123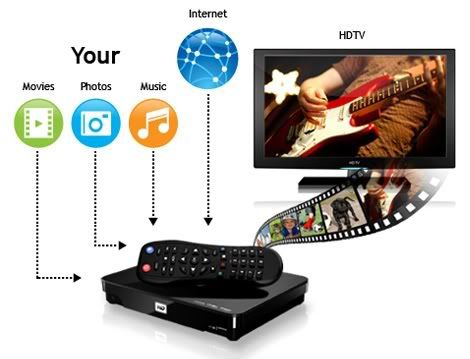 WARRANTY INFORMATION: In order to receive the stated manufacturer warranty the unit must first be registered under the customers name. Please follow the following link when the item arrives to register it under your name https://websupport.wdc.com/registration/index.asp?wdc_lang=en. If at any time the need to use the manufacturer warranty arises please request a replacement direct from the Western Digital Website. We have provided the link to receive replacmeent direct form the WD factory here http://websupport.wdc.com/warranty/rmainfo.asp?custtype=end〈=en
†